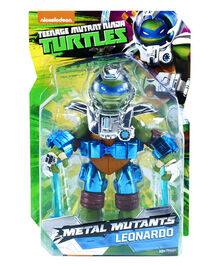 This is a figure created by Playmates, that will be exclusively available for purchase at this year's San Diego Comic-Con.
Details
This figure will be on sale at SDCC '15 on July 10, for $50, and it will stand at 11 inches tall. This product is a limited edition, which means it will only be available at Nickelodeon's Comic-Con booth and no where else!
Official Description
"The TMNT 11" Metal Mutants Leonardo figure from Playmates Toys will be available in a limited production run, available only at the Nickelodeon Comic Con booth. This deluxe 11" Leo figure is fully articulated and comes decked out with enough metal to take on the toughest space villain that dares to threaten earth! The figure is outfitted from head to toe with distinctive shiny silver and blue vacuum metalized space gear. Leo's space gear, which is completely removable, consists of an oxygen converter, an alien decryption translator and pulse boots. Leo is available for a MSRP of $50 and also comes with his signature Katana swords, designed with exclusive translucent blue blades. Leo comes packed out in a highly collectible, giant 15" tall blister card and commemorative, 2015 Comic Con Exclusive mailer carton." [1]
Bio
The fate of the Earth hangs in the balance, and it's up to the turtles to save the world with help from their new ally, the Fugitoid. Ready to lead his brothers back in time to change history, Leonardo is fully equipped with an oxygen converter, an alien decryption translator, and pulse boots.
Species: Turtle-Human Hybrid
Articulation
Ball-joint head
Ball-joint shoulders
Swivel wrists
Ball-joint thighs
Ball-joint knees
Accessories
2 Space Katanas
Removable armor
Gallery
References
Ad blocker interference detected!
Wikia is a free-to-use site that makes money from advertising. We have a modified experience for viewers using ad blockers

Wikia is not accessible if you've made further modifications. Remove the custom ad blocker rule(s) and the page will load as expected.