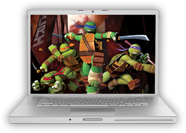 April's Laptop is just that, a laptop owned by April. She uses it to keep a record of strange things that happen in her town. She has started a blog chronicling weird occurrences in New York. People send her pictures and videos of these events and she compiles it all on her laptop. Sometimes she gets information about the Kraang and their activities and keeps a lookout for any information on her father's whereabouts.
Trivia
She has various stickers on the back of the laptop such as spiders and pizza shop logos.
In the episode "Operation:Break Out" she receives a coded message from Kirby O'Neil, her father telling her his location of captivity.
Ad blocker interference detected!
Wikia is a free-to-use site that makes money from advertising. We have a modified experience for viewers using ad blockers

Wikia is not accessible if you've made further modifications. Remove the custom ad blocker rule(s) and the page will load as expected.