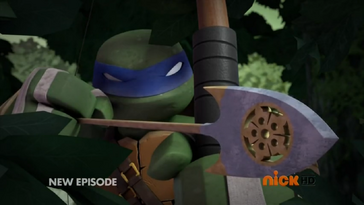 The Bow And Arrow is Weapon Carried by the Turtles it Weapon The Hamato Clan "Vision Quest" and The
Foot Clan "The invasion" and is Weapon of Mikey The Elf "Mazes & Mutants" and Weapon of Mystic Leonardo in "Vision Quest" he is Two weapons "The Bow" and "The Arrow".
Official Description
"Weapons Of The Turtles and Two Clans Faced With Corrected in His Enemy of Wins in The Battle"-Nick
Trivia
The Arrow in Vision Quest had the The Hamato Clan's Symbol on it.
It made its debut in the gauntlet with firecrackers attached to them to defeat the kraang
Ad blocker interference detected!
Wikia is a free-to-use site that makes money from advertising. We have a modified experience for viewers using ad blockers

Wikia is not accessible if you've made further modifications. Remove the custom ad blocker rule(s) and the page will load as expected.