Chimera

Home

The Woods

Name

Turducken

Weapons

Beak
Tail
Wings
Worm-Like Tendrils

Speices

Mutant Eagle-Worm-Salmon Hybrid

Hair Color

Reddish Feathers

Eyes Color

Red

The First Apparence
The Chimera is a mutant that is combination of an earth worm, a salmon, and an eagle.
History
The Chimera is a three-animal hybrid creature, mutated from an eagle, a salmon and a worm.
It was created at the end of
Race with the Demon
, when
Speed Demon
exploded, spilling some mutagen gasoline on an eagle, which was carrying a salmon, which ate a worm.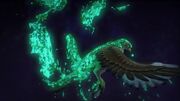 After an accident with Donnie's neurotransmitter, April got a psychic link with the creature, she could see everything the the Chimera saw. The Chimera captured Raph, Donnie, Mikey, and Casey, and took them to its nest, leaving a weak Leo and a blind April to rescue them. When the guys tried to escape becoming food, they fall into a crevasse. When April and Leo reach the nest, they find the others, but then the Chimera grab both of them, but a mid air struggle between the three of them, the Chimera falls into the crevase freeing the guys, but soon the gusyer erupts causing a landslide. Everyone escapes unharmed and April regains her sight. The Chimera is last seen bursting through the rubble of the explosion, and is about to eat a squirrel.
Trivia
The Chimera is the second mutant to be a combination of more than one animal. The first being Justin.
In original Greek Myth, Chimera is a lion, goat and snake as tail mixed up together with power of fire-breath.
The Chimera resembles the giant bird from The Giant Claw, a 1957 science fiction film.
Gallery
See Chimera/Gallery
Ad blocker interference detected!
Wikia is a free-to-use site that makes money from advertising. We have a modified experience for viewers using ad blockers

Wikia is not accessible if you've made further modifications. Remove the custom ad blocker rule(s) and the page will load as expected.