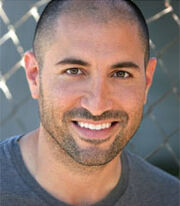 Danny Jacobs - is an American actor, voice artist, and comedian, best known as the voice King Julien on The Penguins of Madagascar and Merry Madagascar (and his singing voice in Madagascar 3: Europe's Most Wanted), substituting for Sacha Baron Cohen. He also has done several video game roles including Batman: Arkham Asylum as Victor Zsasz / Frank Boles / Masked Guard #1 / Robert Sterling (voice) (2009) and reprised the role of Victor Zsasz in Batman: Arkham City. He voices Snake/Snakeweed for TMNT.
Ad blocker interference detected!
Wikia is a free-to-use site that makes money from advertising. We have a modified experience for viewers using ad blockers

Wikia is not accessible if you've made further modifications. Remove the custom ad blocker rule(s) and the page will load as expected.