Space Comrade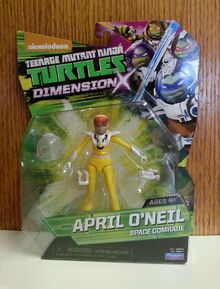 Description 
April O' Neil and the Ninja Turtles team up with their ally, Fugitoid, in the battle to save Earth. April zips up in her bright yellow space suit, pulls out her laser blaster, activates her space pulse boots and she's ready to roll!
WEAPONS: LASER BLASTER
TEAM: NINJA TURTLES
Articulation 
Swivel neck
Swivel hinge shoulders
Swivel hinge hips
Swivel waist
Accessories 
Ad blocker interference detected!
Wikia is a free-to-use site that makes money from advertising. We have a modified experience for viewers using ad blockers

Wikia is not accessible if you've made further modifications. Remove the custom ad blocker rule(s) and the page will load as expected.