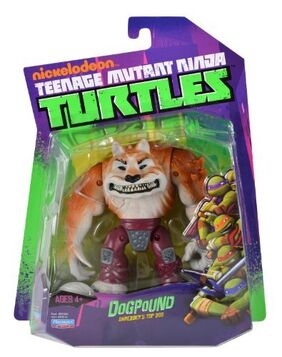 Dogpound is an action figure sold at most big name retail stores.
Bio
Part man and part mutt, Dogpound is all evil! Mutated from martial arts master Chris Bradford, this razor-backed brawler's been reborn with bite and fight rival the skills of any teen Turtle. Fiercely loyal to Shredder and the Foot Clan, Dogpound's off his leash (and his rocker!) and ready to tear into anyone foolish enough to face him.
Accessories
Attachable Back
Attachable Tail
Articulation
Swivel head
Ball joint shoulders
Swivel wrists
Ball joint hips
Swivel tail
Ad blocker interference detected!
Wikia is a free-to-use site that makes money from advertising. We have a modified experience for viewers using ad blockers

Wikia is not accessible if you've made further modifications. Remove the custom ad blocker rule(s) and the page will load as expected.