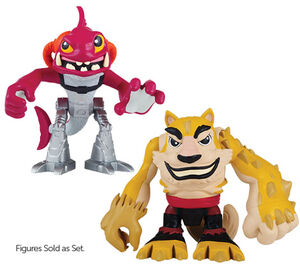 Fishface and Dogpound is a set of action figure released by Playmates Toys in the Half-Shell Heroes Preschool Segment.
Bio
Coming out of their shells for the very first time, the Half-Shell Heroes are ready for non-stop ninja adventure! Young heroes can enjoy recreating the Turtles' pizza-fueled missions—or create new ones from their own imaginations.
Mutant enemies Fishface and Dogpound are always ready to join the Foot Clan in a rumble against the Turtles!
Ages 3 and up.
Articulation
Swivel head
Ball-joint shoulders
Hinge hips
Ad blocker interference detected!
Wikia is a free-to-use site that makes money from advertising. We have a modified experience for viewers using ad blockers

Wikia is not accessible if you've made further modifications. Remove the custom ad blocker rule(s) and the page will load as expected.