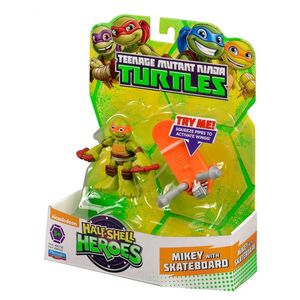 Mikey with Skateboard is an action figure released by Playmates Toys in the Half-Shell Heroes Preschool Segment in 2014.
Description
Coming out of their shells for the very first time, the Half-Shell Heroes are ready for non-stop ninja adventure! Young heroes will enjoy recreating Turtle adventures or inventing their own.
Mikey is ready to shred air with his awesome skateboard! Squeeze the board's silver pipes to activate its wings!
Ages 3 and up.
Set includes Mikey action figure with signature weapons and skateboard. You can collect the entire world of Half Shell Heroes!
Articulation
Swivel head
Ball-joint shoulders
Hinge Hips
Notes
Mikey's Skateboard is based on the 87 cartoon Cheapskate
Ad blocker interference detected!
Wikia is a free-to-use site that makes money from advertising. We have a modified experience for viewers using ad blockers

Wikia is not accessible if you've made further modifications. Remove the custom ad blocker rule(s) and the page will load as expected.