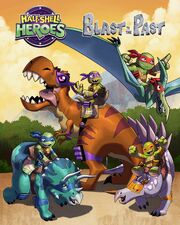 Half-Shell Heroes: Blast to the Past
is a one-hour TMNT TV special on Nickelodeon, that aired Sunday, November 22, 2015. It was released on the Nickelodeon website on November 1st, 2015.
Plot
Told in the style of Playmates Toys' Half-Shell Heroes Preschool Segment action figure line, the storyline finds the Turtles going back in time to the Cretaceous Period, where they encounter friendly dinosaurs from the past and dangerous aliens from the future who have a nefarious plan of their own. However, things get even more complicated when Triceratons , Bebop and Rocksteady show up!
Debuts
Trivia
Unlike the current CG-animated series on Nick, Half-Shell Heroes is 2D-animated.
"Random House" put out a "Blast to the Past" book in September, while Playmates released new dino toys in the fall to coincide with the special.
Instead of their normal brown elbow and kneepads, the Turtles' pads are now the color of their respective bandana color.
Production
Gallery
Ad blocker interference detected!
Wikia is a free-to-use site that makes money from advertising. We have a modified experience for viewers using ad blockers

Wikia is not accessible if you've made further modifications. Remove the custom ad blocker rule(s) and the page will load as expected.