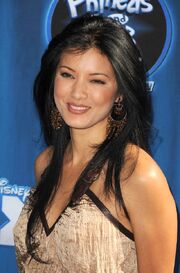 Kelly Hu is an American actress and model of Chinese, English, and Hawaiian ancestry was born in Honolulu, Hawaii. She is a former Miss Hawaii and former Miss Teen USA (the first Asian American woman to earn this title). Her roles include Cassandra in "The Scorpion King", Stacy Hirano in "Phineas and Ferb" and Cheshire in "Young Justice". Lady Shiva in "Batman Arkham Origins" and she voices Karai for TMNT.
Ad blocker interference detected!
Wikia is a free-to-use site that makes money from advertising. We have a modified experience for viewers using ad blockers

Wikia is not accessible if you've made further modifications. Remove the custom ad blocker rule(s) and the page will load as expected.