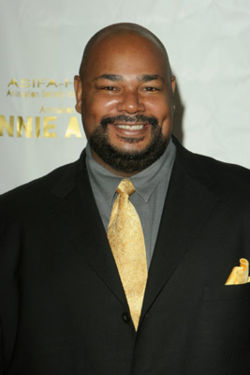 Kevin Michael Richardson is and American actor mostly recognizable for his deep voice, which he uses in many of his works. Richardson is a classically trained actor. He first gained recognition as one of only eight U.S. high school students selected for the National Foundation for the Arts' "Arts '82" program, later he earned a scholarship to Syracuse University. He lent his voice to based-upon video game film Mortal Kombat (1995) as Goro and was also in Matrix Revolutions (2003) as Deus Ex Machina. His other animated voiceover credits include "The Mask - The Animated Series" (1995), "The New Batman Adventures" (1997), "Pokemon" (1998), "Powerpuff Girls" (1998), "Voltron: The Third Dimension" (1998), "Family Guy", Lilo & Stitch (2002), as well as "Lilo & Stitch" TV series, "Codename Kids Next Door" (2002), Batman VS Dracula (2005)(V), where he voiced Joker, "Mummy The Animated Series" (2003), TMNT (2007) as General Aguila, "Transformers Animated" (2007) as Omega Supreme, Transformers Prime (2010) as Bulkhead, G.I. Joe: Renegades (2010) As Roadblock, and Batman: Gotham Knight (2008), as Lucius Fox. He voices Shredder for TMNT.
Ad blocker interference detected!
Wikia is a free-to-use site that makes money from advertising. We have a modified experience for viewers using ad blockers

Wikia is not accessible if you've made further modifications. Remove the custom ad blocker rule(s) and the page will load as expected.