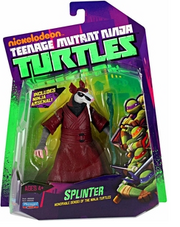 Master Splinter
is an action figure released by
Playmates Toys
in 2012.
Bio
Protective and precise, Splinter is an unmatched Ninja Master with a playful and deep spirit that probably comes in handy when raising his four mutant Turtle "sons"! Once a human known as Hamato Yoshi, he is now sensei to the Turtles, continuing his tradition of teaching Ninjitsu and his battle against the evil Foot Clan.
Weapons:
Team: Ninja Turtles
Accessories
Attachable Tail
Walking Staff
Articulation
Swivel head
Ball joint shoulders
Swivel elbows
Swivel tail
Ad blocker interference detected!
Wikia is a free-to-use site that makes money from advertising. We have a modified experience for viewers using ad blockers

Wikia is not accessible if you've made further modifications. Remove the custom ad blocker rule(s) and the page will load as expected.