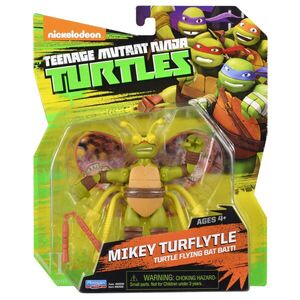 Mikey Turflytle is an action figure made by Playmates Toys In 2014.
Bio
When Mikey agrees to dress up in a giant fly costume to lure Kirby Bat, he starts out feeling bugged. But with an awesome name like Turflytle, Mikey quickly embraces his superhero outfit—complete with wings on his shell, insect legs beneath his arms, antennae, and fly-like goggles on his eyes.
Accessories
2 nunchucks
Bug-eyed headband
Bug wings
Articulation
Ball-joint neck
Ball-joint shoulders
Ball-joint elbows
Swivel wrists
Ball-joint thighs
Ball-joint knees
Notes
Ad blocker interference detected!
Wikia is a free-to-use site that makes money from advertising. We have a modified experience for viewers using ad blockers

Wikia is not accessible if you've made further modifications. Remove the custom ad blocker rule(s) and the page will load as expected.