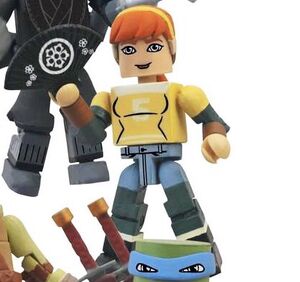 April O'Neil is an action figure made by Minimates and is sold in stores and online. This is part of series 1.
Articulation
Ball-joint head
Ball-joint shoulders
Ball-joint elbows
Swivel wrists
Ball-joint thighs
Ball-joint knees
Accessories
Tessen
Clear figure stand
Trivia
Since this certain figure is a K-Mart exclusive, the only way to get this toy is to buy it at K-Mart, purchase a full counter-top case on online toy stores, or simply buy one on certain websites such as Ebay.com.
Ad blocker interference detected!
Wikia is a free-to-use site that makes money from advertising. We have a modified experience for viewers using ad blockers

Wikia is not accessible if you've made further modifications. Remove the custom ad blocker rule(s) and the page will load as expected.