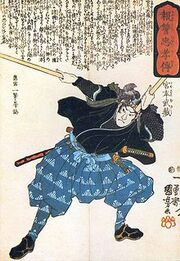 Miyamoto Musashi
(宮本 武蔵?, c. 1584 – June 13, 1645)
, also known as
Shinmen Takezō
,
Miyamoto Bennosuke
or, by his
Buddhist name
,
Niten Dōraku
,
[1]
was a Japanese
swordsman
and
rōnin
. Musashi, as he was often simply known, became renowned through stories of his excellent swordsmanship in numerous duels, even from a very young age. He was first mentioned in
New Girl In Town.
 He was the founder of the
Hyōhō Niten Ichi-ryū
or Niten-ryū style Katana Swords
(Leonardo's weapons)
of swordsmanship and the author of
The Book of Five Rings
(五輪の書

,

Go Rin No Sho?)
, a book on strategy, tactics, and philosophy that is still studied today.
Ad blocker interference detected!
Wikia is a free-to-use site that makes money from advertising. We have a modified experience for viewers using ad blockers

Wikia is not accessible if you've made further modifications. Remove the custom ad blocker rule(s) and the page will load as expected.