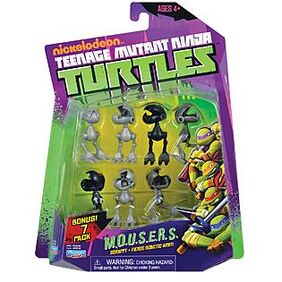 The 
Mousers
 are a large 7 pack of action figures sold at most big name retail stores.
Bio
Baxter Stockman is the creator of the "Mobile Offensive Underground Secret Excavation and Retrieval Sentries" called Mousers. These highly intelligent robots are programmed by Stockman to search for items around the city and steal what is valuable. They are trained to defend themselves by using their strong jaws to chew through anything that comes their way. The Turtles have their hands full with these little fiends roaming the city!
Weapons:
Team: Baxter Stockman
Accessories
Articulation
Openable jaws
Ball joint necks
Swivel hips
Ad blocker interference detected!
Wikia is a free-to-use site that makes money from advertising. We have a modified experience for viewers using ad blockers

Wikia is not accessible if you've made further modifications. Remove the custom ad blocker rule(s) and the page will load as expected.