Newtralizer
is an action figure based on the character.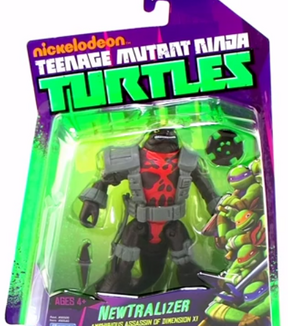 Bio
Newtralizer is one big, bad, mutant. Having escaped from a Kraang detention center, this former fire-belly newt becomes the Kraang's number one enemy, tracking and taking them down, and collecting their tentacles as he goes! With unbelievable strength and a massive array of weaponry, he could turn out to be a formidable ally to the Turtles.
Weapons:
Team: Ninja Turtles
Accessories
Articulation
Swivel neck
Ball-joint shoulders
Swivel wrists
Ball-joint hips
Swivel tail
Ad blocker interference detected!
Wikia is a free-to-use site that makes money from advertising. We have a modified experience for viewers using ad blockers

Wikia is not accessible if you've made further modifications. Remove the custom ad blocker rule(s) and the page will load as expected.