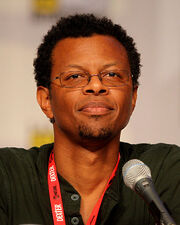 Phil Lamarr is an American actor, comedian and voice actor. One of the original cast members on the sketch comedy series MADtv, he is also known for his small, but memorable role as Marvin in Pulp Fiction. He has an extensive voice acting career, with major roles spanning animated series Justice League/Justice League Unlimited, Futurama, Samurai Jack, Static Shock, and Foster's Home For Imaginary Friends, and video games Metal Gear Solid 2 and 4, and Metal Gear Rising: Revengeance, the Jak and Daxter series, Darksiders, Final Fantasy XII, inFAMOUS, Dead Island and the Mercenaries series. He voices Baxter Stockman for TMNT.
Ad blocker interference detected!
Wikia is a free-to-use site that makes money from advertising. We have a modified experience for viewers using ad blockers

Wikia is not accessible if you've made further modifications. Remove the custom ad blocker rule(s) and the page will load as expected.