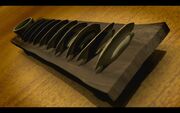 Pizza Gyoza are gyoza (a Japanese variant of Chinese potstickers) stuffed with Pizza filling. After the turtles saved his restaurant from the
Purple Dragons
, Mr Murakami cooked up this special dish for his heroes. It combines pizza ingredients with a traditional dumpling recipe. The turtles instantly loved it but April was a bit hesitant. Once Donnie convinced her to try it, however, she was hooked. 
In episode Karai's Vendetta, April introduces this food to Karai, and once she tries it, Karai comments it's the "Best dumpling ever!"
In the episode The Wrath of Tiger Claw, the Turtles fight over a single Pizza Gyoza at Mr. Murakami's noodle shop but, Leo manages to have it without even trying.
Gallery
Ad blocker interference detected!
Wikia is a free-to-use site that makes money from advertising. We have a modified experience for viewers using ad blockers

Wikia is not accessible if you've made further modifications. Remove the custom ad blocker rule(s) and the page will load as expected.