The practice dummy is an item that The Turtles use to practice combat with their enemies. It is seen often in
The Sewer Lair
 in almost every episode. It can be seen with a pair of 
Jitte
 sticking out of it. Behind it is a barrel with T.C.R.I written on it.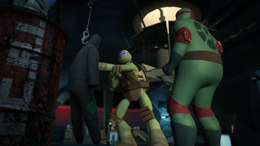 Trivia
Mikey seems to have quite an odd relationship with the practice dummy. Examples are when he speaks to the Dummy and/or relies on it when Raph starts playfully threatening him.
After The Gauntlet, the practice dummy is seen dressed up as The Shredder.
The practice dummy is seen in the intro getting kicked of it's hook by Leo.
It is replaced at the farmhouse by a sack of potatoes.
Ad blocker interference detected!
Wikia is a free-to-use site that makes money from advertising. We have a modified experience for viewers using ad blockers

Wikia is not accessible if you've made further modifications. Remove the custom ad blocker rule(s) and the page will load as expected.