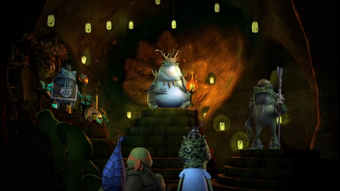 The Punk Frogs are a clan of mutated frogs, with
Napoleon Bonafrog
with them. They made their pre-mutation in
"Buried Secrets
. In
"The Croaking"
they were showed in their mutant forms.
History
They all started out as normal frogs until the alien hybrid posing as Mrs. O'Neil dumped some Mutagen into the woods' pond transforming them into their current state.
Members
Trivia
Gallery
Ad blocker interference detected!
Wikia is a free-to-use site that makes money from advertising. We have a modified experience for viewers using ad blockers

Wikia is not accessible if you've made further modifications. Remove the custom ad blocker rule(s) and the page will load as expected.