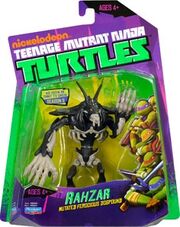 Rahzar is an action figure made by Playmates Toys. It was released in Spring 2014.
Bio
Never exactly man's best friend, Rahzar now has more bite than ever before! Exposed to Ooze for a second time, the creature who was once martial arts master Chris Bradford—and then mutant mutt, Dogpound—has mutated again into a faster, stronger, and more agile hound. Armed with deadly, detachable, claws and his fierce hatred of the Turtles, Rahzar may be the Foot Clan's nastiest dog of war!
Weapons: Canine Claws & Teeth, Mutant Spikes
Team: Foot Clan
Accessories
Articulation
Ball-joint shoulders
Swivel waist
Ball-joint hips
Features
Separate hand allows finger-flick action!
Gallery