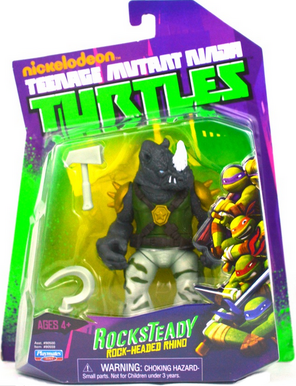 Rocksteady
was made into an action figure made by
Playmates Toys
in 2014.
Bio
A former Russian arms dealer, Steranko has ended his gun-dealing days and now collects rare weapons and armor. He hires Anton Zeck (Bebop) to steal Shredder's legendary helmet.
But Shredder discovers that Steranko's the mastermind behind the theft and sends him flying into a mixture of mutagen Ooze and Rhino DNA! Steranko instantly mutates into the half human, half Rhino known as Rocksteady.
Articulation
Swivel Head
Swivel Hinge Shoulders
Swivel Wrists
Swivel Hinge Hips
Accessories
Ad blocker interference detected!
Wikia is a free-to-use site that makes money from advertising. We have a modified experience for viewers using ad blockers

Wikia is not accessible if you've made further modifications. Remove the custom ad blocker rule(s) and the page will load as expected.