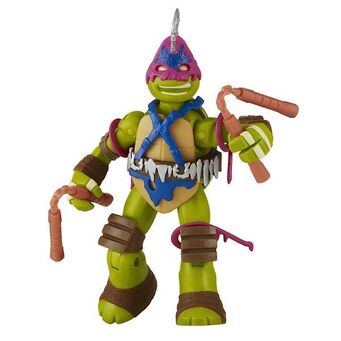 Savage Mikey is an action figure released by Playmates Toys in Fall 2015.
Bio
After being the first of his brothers to jump through a portal to Dimension X, the time travel difference gives Mikey additional time to learn the ways of this new space dimension.
With a Kraang shell on his head and Kraang Crystals on his vine-woven hip pouch, Michelangelo fights off a space caterpillar and other alien creatures to rescue his brothers. In the upside down world of Dimension X, Mikey's the Turtle leader and develops a master plan on how to fight their way back to Earth!
Articulation
Ball-joint head
Ball-joint shoulders
Ball-joint elbows
Swivel wrists
Ball-joint hips
Ball-knees
Accessories
2 Nunchucks
Removable Kraang-brain helmet
Trivia
Savage Mikey is missing his breathing unit.
Ad blocker interference detected!
Wikia is a free-to-use site that makes money from advertising. We have a modified experience for viewers using ad blockers

Wikia is not accessible if you've made further modifications. Remove the custom ad blocker rule(s) and the page will load as expected.