Screwloose

Eye Color

Green

Skin Color

yellow

Weapons

Wingnut-zooka

Ennemies

Voiced by

Jeff Bennett
Screwloose is a comic book superhero, he was brought into the real world in Bat in the Belfry.
History
Appearance
Trivia
He is a clear parody of Robin from the Batman franchise. Most specifically he is a spoof of Burt Ward's portrayal from he 1966 show.
Gallery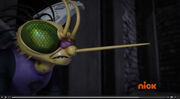 Ad blocker interference detected!
Wikia is a free-to-use site that makes money from advertising. We have a modified experience for viewers using ad blockers

Wikia is not accessible if you've made further modifications. Remove the custom ad blocker rule(s) and the page will load as expected.