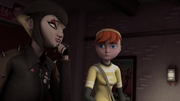 Suppon Nabe, or Turtle Soup, is a dish that Karai ordered at Mr. Murakami's noodle shop in the episode Karai's Vendetta.
Trivia
April almost ate some after Karai told her what it was
Mr. Murakami looked worried when Karai ordered it; meaning that either Murakami sensed the threat or that during the time he spent with the turtles he developed respect for them, and to make a dish like that would seem like an insult.
Before Karai ate, she did a little prayer in Japanese.
Ad blocker interference detected!
Wikia is a free-to-use site that makes money from advertising. We have a modified experience for viewers using ad blockers

Wikia is not accessible if you've made further modifications. Remove the custom ad blocker rule(s) and the page will load as expected.