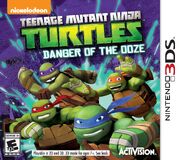 Danger of the Ooze
is a video game that was released October 28th, 2014. It is only playable on Playstation 3, X-BOX 360, and Nintendo 3DS.
Plot
The Turtles must stop Shredder from obtaining the Super Mutagen and making a deadly mutant army that would destroy the entire city.
Trivia
The Super Mutagen is able to affect organics and non-organics.
The game's timeline goes up all the way to the episode "Into Dimension X!".

If it goes all the way up to "Into Dimension X", and "Vengeance is Mine" is 2 episodes back from it, then Karai should be her mutant self.

The audio clip the plays when the player pauses and un-pauses the game bears a strong resemblance to the sound used in the original Teenage Mutant Ninja Turtles video game on the NES.
Many recent introduced characters are seen making appearances in this game such as Living Atoms, Tiger Claw, Slash, and even Baxter's mutant form.
In this game, Shredder has teamed up with Newtralizer to protect to modified Ooze.
Stone Sir Malachi statues are seen in various places carrying useful pickup's.
The glowing, dancing Ice Cream Kitty's that are hidden in locations in the game are used to boost your XP meter.
In a part of the game, Mr. Murakami San is seen in his shop cooking food. If you wait long enough, he will toss you a Pizza Gyoza, which helps you health bar gain as much health as a pizza slice.
In one spot of the beginning rooftop levels, Anton Zeck is seen standing in place in the background on top of a rooftop.
Miniature bosses in the game are the Squirrelanoids. They are located in various areas in the game, but they are very rare to find.
Steranko makes a cameo in the game, in where he is walking in the background, before you fight Tiger Claw.
When fighting Tiger Claw, Donatello makes a Tony the Tiger reference
Leatherhead confirms the Neutrinos exist.
The Rat King also makes a cameo if the player visits the sewers before rescuing Karai.
Gallery